Posts for tag: nutrition
By Florence Dental Arts
September 16, 2018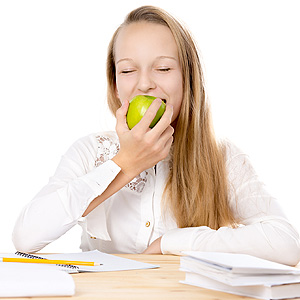 "The Freshman 15" is a popular way of referring to the phenomenon of new college students gaining weight during their freshman year (although the average is less than fifteen pounds). According to research, college students gain weight mainly due to an unhealthy diet and lack of exercise.
If you're experiencing this as a college student, you should also know poor diet and lifestyle choices harm your teeth and gums as well. If you don't want to encounter major dental problems, then you need to make some changes beginning with the same cause for your weight gain: what you eat and drink.
Like the rest of your body, your teeth and gums have the best chance for being healthy when you're eating a balanced, nutritional diet low in added sugar. And it's not just mealtime: constant snacking on sweets not only loads on the calories, it also feeds disease-causing oral bacteria. Sipping on acidic beverages like sodas, sports or energy drinks also increases the levels of acid that can erode tooth enamel.
Some lifestyle habits can also affect oral health. Using tobacco (smoked or smokeless) inhibits your mouth's natural healing properties and makes you more susceptible to dental disease. While it may be cool to get piercings in your lips, cheeks or tongue, the hardware can cause gum recession, chipped teeth and soft tissue cuts susceptible to infection. And unsafe sexual practices increase your risk for contracting the human papilloma virus (HPV16) that's been linked with oral cancer, among other serious health problems.
Last but not least, how you regularly care for your teeth and gums can make the biggest difference of all. You should brush and floss your teeth ideally twice a day to clean away plaque, a thin film of disease-causing bacteria and food particles. And twice-a-year dental cleanings and checkups will round out your prevention efforts against tooth decay or periodontal (gum) disease.
Making your own choices is a rite of passage into adulthood. Making good choices for your teeth and gums will help ensure they remain healthy for a long time to come.
If you would like more information on maintaining dental health during the college years, please contact us or schedule an appointment for a consultation. You can also learn more about this topic by reading the Dear Doctor magazine article "10 Health Tips for College Students."
By Florence Dental Arts
June 18, 2018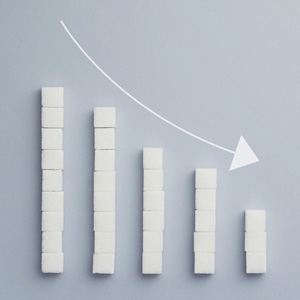 Tooth decay doesn't appear out of nowhere. It begins with bacteria, which produce acid that softens and erodes tooth enamel. Without adequate enamel protection, cavities can develop.
So, one of our prevention goals is to decrease populations of disease-causing bacteria. One way is to deprive them of carbohydrates, a prime food source, most notably refined sugar. That's why for decades dentists have instructed patients to limit their intake of sugar, especially between meal snacks.
Ironically, we're now consuming more rather than less sugar from a generation ago. The higher consumption impacts more than dental health — it's believed to be a contributing factor in many health problems, especially in children. Thirty years ago it was nearly impossible to find a child in the U.S. with type 2 diabetes: today, there are over 50,000 documented juvenile cases.
Cutting back isn't easy. For one thing, we're hard-wired for sweet-tasting foods. Our ancestors trusted such foods when there was limited food safety knowledge. Most of us today still have our "sweet tooth."
There's also another factor: the processed food industry. When food researchers concluded fats were a health hazard the government changed dietary guidelines. Food processors faced a problem because they used fats as a flavor enhancer. To restore flavor they began adding small amounts of sugar to foods like lunch meat, bread, tomato sauce and peanut butter. Today, three-quarters of the 600,000 available processed food items contain some form of added sugar.
Although difficult given your available supermarket choices, limiting your sugar intake to the recommended 6 teaspoons a day will reduce your risk for dental and some general diseases. There are things you can do: replace processed foods with more fresh fruits and vegetables; read food labels for sugar content to make better purchasing decisions; drink water for hydration rather than soda (which can contain two-thirds of your daily recommended sugar allowance), sports drinks or juices; and exercise regularly.
Keeping your sugar consumption under control will help you reduce the risk of tooth decay. You'll be helping your overall health too.
If you would like more information on the effect of sugar on health, please contact us or schedule an appointment for a consultation. You can also learn more about this topic by reading the Dear Doctor magazine article "The Bitter Truth about Sugar."